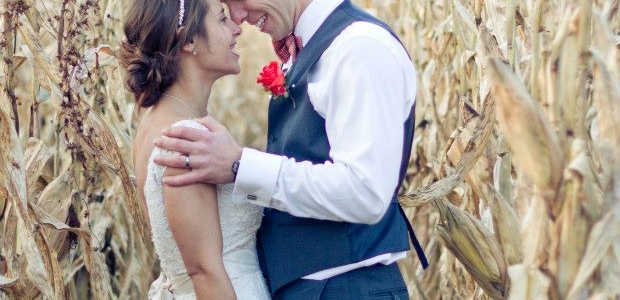 If Your Guests Want to Stay After the Wedding….
According to bridalguide.com, June, September and October are the most popular months to hold a wedding.
June is a traditional favorite, and October's searing autumn color is an obvious draw, but what about September? What makes it a great month to get married, especially in Luray or Page County?
One of the main reasons does not just apply to you and your fiancé—but to your wedding party and guests as well.
September is an ideal season for those guests who want to turn your wedding into a long weekend or maybe even a full-blown vacation.
Typical temperatures in Luray this month hover between a low of 54 and a high of 79; with six days of rainfall considered normal. Either before or after the ceremony, your friends and family can enjoy a wide variety of indoor and outdoor pursuits. Outdoors, you can float the Shenandoah River in a canoe, kayak, raft or tube; you can ride horses, hike in Shenandoah National Park or George Washington National Forest, or hang from a zipline. Cycling at this time of year is nothing short of superb. You can explore historical sites, tour Skyline Drive, or visit a vineyard.
A wide choice of accommodations in and around Page County can host various size groups, with a wide range of services. At Massanutten Resort, for example, about a 40-minute drive from Luray, you can combine numerous outdoor sports—hiking, mountain biking, golf, ziplining, horseback riding and swimming in a state of the art waterpark—along with spa visits and a variety of dining options.
Hotels in Page County book up quickly this time of year, but some excellent choices are listed here.
As Page County is the Cabin Capital of Virginia, there are hundreds of such options to choose from. Stay in town, on the river or in the mountains. Explore what they have to offer here.
Want something smaller and more intimate? Try a Bed and Breakfast, several of which are in or walking distance to Luray's Main Street/Downtown. This is where you will find many bargain shops dealing in locally made crafts, gifts, jewelry, antiques, second-hand treasures, art, and furniture.
Downtown Luray is also the site of a growing arts and entertainment scene. For example, free Evenings on Main concerts are held every other Friday until October 25, featuring talented local pop, rock, bluegrass and folk bands.
Of course you are putting months of planning into your own wedding—and a great deal of help and wedding services can be found here—but it's worth remembering that your guests might want to take advantage of all that Luray/Page County has to offer, and to stay around a few days after the ceremony. The staff at the Visitor Center will be glad to help you find accommodations and activities to ensure your guests have all the options they want—after your special day.